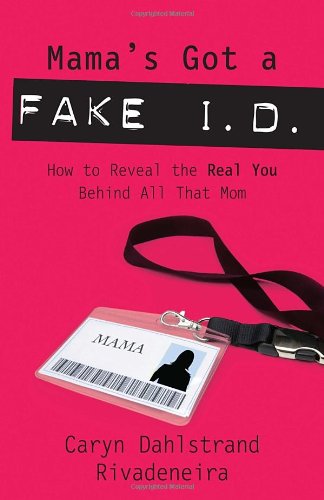 $13.99
Publisher:

WaterBrook

Available in:

Paperback, Kindle

ISBN:

1400074932

Published:

March 17, 2009
Buy on Amazon
Buy on Barnes and Noble
Buy on Christian Book Distributors
When you have children, the role of mom–as wonderful as it is–seems to consume you. It's easy to lose your identity when others see you as a mom and little else. In Mama's Got a Fake I.D., Caryn Dahlstrand Rivedeneira helps moms like you reclaim the person God made you to be. God still wants to use you in ways that let your gifts, passions, and personality shine.
This inspiring and practical guide will show you how to break free from false guilt, learn a new language to express your true identity, and follow God's lead in sharing who you really are. God wants you to discover who he made you to be–in your family and beyond. It's time to reveal the woman who got hidden behind all that mom.
What People Are Saying About It:
"With refreshing honesty, she casts vision and shares a perspective that every mom needs. If you've ever felt like you've lost yourself in the midst of raising a family, this book will help you find yourself again!"
– Jill Savage, mother of five, founder and CEO of Hearts at Home
"This work is invaluable not just to mothers, but also to churches and families desiring to respect and appreciate moms for who we really are. I am grateful to Caryn for finally providing moms with such a soul-affirming resource."
–Julie Clawson, author of Everyday Justice

"With a clear, biblical reminder that we are first and foremost the daughters of God, Caryn gently nudges us out from behind the false faces of maternal perfection and shows us how to reveal the women God created us to be, women of strength and vision and creativity and depth."
– Carla Barnhill, author of The Myth of the Perfect Mother and former editor of Christian Parenting Today
"God wants mothers to live their fullest lives, and Caryn reminds us that in the throes of motherhood we can still continue to find our true identities in God."
– Tracey Bianchi, pastor of women's ministries at Christ Church of Oak Brook and author of Green Mama
Mama's Got a Fake I.D. is available from Amazon, Barnes and Noble, Christian Book Distributors and many fine independent booksellers near you.
For a signed copy, email Caryn at caryn@carynrivadeneira.com for information.