About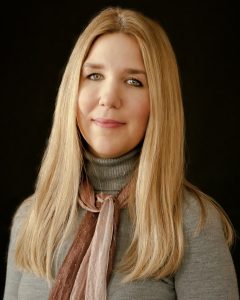 Caryn Rivadeneira might spend more time thinking, dreaming and plotting than she does actually writing. But since it's the writing part that pays (some of, at least) the bills, she calls herself a writer. Oh, and a speaker. And an editor. Definitely a mother. And a wife. And now she's on the worship staff at her church. It gets so complicated. Which is sometimes she has to reread her very official biography to remember who she is.
In fact, Caryn is a sought-after writer and speaker. She's the author of four books—Shades of Mercy: A Maine Chronicle (River North, September 2013), Known & Loved: 52 Devotions from the Psalms (Revell, April 2013), Grumble Hallelujah (Tyndale House, September 2011), and Mama's Got a Fake I.D. (WaterBrook Press, March 2009)–and a regular contributor to Christianity Today's Her.Meneutics as well as columnist for Re:Frame Media's ThinkChristian blog.
Caryn has written dozens of magazine article. Her work has appeared in such publications as Christianity Today, Relevant, FamilyLife, and Engineering and Mining Journal (you read that right).
Caryn leads workshops and speaks at conferences and church groups across the country. She's also a regular guest on Moody Radio's Midday Connection with Anita Lustrea and Melinda Schmidt and has been featured on such radio shows as The John and Kathy Show, Changing Worldviews/WOMANTalk with Sharon Hughes, I Thought She Said with Faith Daly, The Paul Edwards Program with Paul Edwards, and Talk from the Heart with Rich Buhler, among many others. Caryn also appeared on The Harvest Show.
Caryn earned a B.A. in English from Calvin College and attended the University of Chicago's publishing program. She lives in the western suburbs of Chicago with her husband, Rafael, her three kids, a rescued pit bull terrier, two hermit crabs, and several tank fulls of who-knows-what-kind-of fish. Caryn and her family are members of Elmhurst Christian Reformed Church in Elmhurst, Illinois, where Caryn recently joined the worship staff.