Speaking
Yes, this writer can speak! My mom tells me I've been doing it pretty much nonstop since I was 18 months old…. Below, I've inserted a little clip of me speaking, if you'd like to hear what I sound like, if you like to count how many times "ummm" sneaks out of my mouth, or if—maybe, just maybe—you want to know what I have to say. I also list a few of my current popular speaking topics. Oh, and a list of where and when I'm speaking.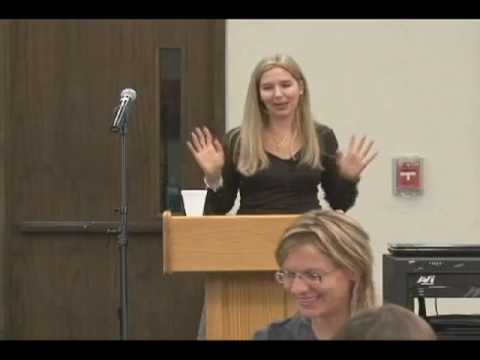 Talk Topics
Here are some of the fun and interactive talks I've got going (scroll down and you can see some of the places I'm giving these talks):
Grumble Hallelujah. This talk is based on my book, Grumble Hallelujah: Learning to Love Your Life Even When It Lets You Down. We talk about navigating disappointments in life and how to move from a place of frustration to one where we love life and life it as God would want us.
Grumble Merry Christmas. Also based on ideas from my book, in this talk I share how I've learned to manage my own expectations of the "perfect Christmas" and the "real" beauty and Spirit of Christmas I discovered in the disappointments and unexpected.
Creative Listening. In this talk on listening (of all things) I encourage women (or men) to see listening as an active thing and something from which we can create and transform the world. We go through steps on how to engage our minds and critical-thinking abilities as well as how to make sure we're tuned in to what the Holy Spirit might have us take away from a talk.
The Leader at Home: Integrating your leadership roles with your family responsibilities. When God made you a daughter, wife, sister, or mother and gifted you with leadership skills and opportunities to use them, he didn't intend for one to take away from the others. We'll help each other see how God equips us to manage our various roles and the ways he intends for them to give us MORE out of life, even when it feels like less.
Ministry and Media: Ways to get your message out. The "dos and don'ts" and "ins and outs" of working with the media or broadening your coverage with them.
Inspiring Writing: How to put into words what God put in your heart. While not all of us are called to write for publication, many of us have a longing to write about what God has done in our lives. This workshop-style talk walks wanna-be writers through ways to craft our thoughts and emotions into clear, meaningful prose.
Mama's Got a Fake ID! The Secrets to Revealing the Real You. This talk gives an overview of the "identity crisis" many moms face, gives reasons why God wants you to reveal your true identity, and offers a few suggestions to living as the complete woman he created you to be.
Gift Living: What Motherhood Teaches Us about What We Have To Offer. We explore the different types of gifts God gives each us and work through ways to live them out—even when motherhood seems to reign us in from using many gifts. We also look at ways that God uses motherhood—and the time away from certain gifts—to grow us, stretch us, and help us discover untapped gifts.
The 'Bad Mommy's' Guide to the Good Sides of Guilt: How Gifts, Grace, and Growth Will Free Up Your Life. This talk focuses on another one of motherhood's greatest foes: guilt. Instead of simply looking at the problem of true guilt versus false guilt, we explore ways to harness guilt for good, specifically as a way to point out your gifts, steer you toward growth, and wrap you in grace.
God's ID, Your ID: Let the World See You the Way God Does. Not only do we look at the ways that God reveals his true identity to all of us and how we can mirror those ways, but we look at how exactly God sees you as his child and his image-bearer.
Of course, each of these talks can be customized and modified. Each of them can also be turned into longer-length workshops. If you're interested in booking me your group, shoot me an email at caryn@carynrivadeneira.com.
Calendar
2011
April 30: God, Faith & Culture, Arlington Heights, IL
Workshop Topic: "Creative Listening"
May 10: MOPS, Crystal Lake, IL
Topic: "The Bad Mommy's Guide to the Good Sides of Guilt"
September 27: MOPS, Rockford, IL
Topic: TBD
October 14-15: Breathe Writers Conference, West Olive, MI
Keynote Topic: "Masters of Our Craft, Servants of Our Calling: The 'Musts' for Every Christian Writer" and "All Together Now: The Thrills and Benefits of Writing in Community"
October 20: Johnsen&Taylor Booksellers Author Event, Wheaton, IL
Panel Discussion: Women and Writing: The Importance of Using Your Voice for Christ's Kingdom
November 17: MOPS, Arlington Heights, IL
Topic: TBD
November 29: MOPS, Lombard, IL
Topic: Grumble Merry Christmas
2010
February 19, First Presbyterian, River Forest, IL
March 15, Wheaton Bible Church, West Chicago, IL
March 22, Our Saviour's Evangelical Lutheran Church, Naperville, IL
March 23, Elmhurst Christian Reformed Church, Elmhurst, IL
April 7, Bethel University, Minneapolis, MN
April 16, Calvin College, Festival of Faith and Writing, Grand Rapids, MI
August 7, MOPS International Convention, Nashville, TN