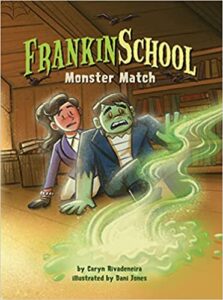 Eight years ago, my kid came home from school with a book from an author visit. We'd pre-ordered it. I'd carefully written my son's name on the form. But when my son received the book, it was signed, "To Frank." My son's name is not Frank.
And yet, this author's (super understandable) mistake launched an idea. "What if," I teased my son, "you were actually Frank In School."
Anyway, because writers are the weirdest people on earth, this idea then turned into a silly poem, which turned into a chapter book for young readers. Because of other book projects and life and work (and just the realness of the publishing industry), Frankinschool took a while to find a home. But then, he found the perfect one, with my friends at Red Chair Press, who brought in the amazing Dani Jones to illustrate it–perfectly. I'm delighted that Frankinschool will have four adventures with his friends, starting with Frankinschool: Monster Match, which launches August 1.
So, here's the gist: After being out sick and missing an author visit, Fred arrives at school to find the author has signed his copy of the book To Frank. Fred's desk-mate Luisa suggest that he might be Frank in school? When their teacher assigns them a What If Poem, Fred runs with this idea, writing a poem that unlocks some school magic. Fred transforms into Frankinschool, Luisa into Princesa Luisa. Together, they set out to save their teacher and classmates from Frank-the-Book-Stealing Attic Ghost and the mysterious sleeping potion streaming through the school. The book may be a cozy ghost story, but ultimately it's about the power of pretend — and of forgiveness and letting go.
Here's what some folks are saying:
"The author crafts an unusual story akin to Danny Dunn or Encyclopedia Brown… An engrossing story that will delight all readers with its intriguing tale of self-discovery, transformation, magic, and changed interpersonal relationship skills."  –D. Donovan, Editor, Donovan's Literary Svcs
"Only Caryn Rivadeneira could manage to pair a monster with a message of grace and forgiveness. Frankinschool is simply brilliant…humorous and heartwarming." — Glenys Nellist, former schoolteacher and author of the Little Mole series
"Kids will love the relatable characters in Caryn Rivadeneira's delightfully creepy–and not too scary–tale about the power of imagination and the meaning of grace." — Sonja Anderson, Elementary School Librarian and author of Sophie's Quest.
"Relatable, funny, and just the right about of creepy, kids will love Fred and his friends and their life-affirming adventures." — Jennifer Grant, award-winning author of Once Upon a Time, Not So Long Ago
Hope you check it out!
Pre-orders are open now. The book will be available everywhere August 1.