Last month, the first two early-reader chapter books in the Helper Hounds series launched. WooHoo! It's been terrific hearing from those who've enjoyed reading the helpful adventures of Sparky and Penny. I'm particularly grateful to Priscilla Alpaugh for her amazing illustrations (so fun!) and to Keith Garton and Red Chair Press for believing in the stories of these rescued hounds.
Here's a bit about each book: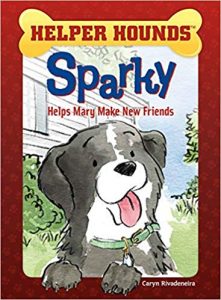 Sparky Helps Mary Make New Friends: Mary's new in town. She's worried about starting classes at her new school. That's why her mom calls the Helper Hounds―and why Sparkplug, the wildly handsome, wickedly smart, card-carrying, world-famous Helper Hound is on the scene. Sparky knows a thing or two about moving. He moved four times as a puppy, and learned to make new friends along the way. Sparky knows he can teach Mary all his best tricks and help her meet new friends, too. At least Sparky thought he could until he met Custard, Mary's persnickety cat. Will Sparky's best tricks be enough to win over Custard and show Mary making friends is nothing to fear?
Penny Helps Portia Face Her Fears: Portia has overcome a lot in life. Born with Down syndrome, Portia has been through many surgeries, lots of doctor's appointments, and strange looks from people who want to limit what she can do. Inside herself, Portia knows she can do anything―including getting over her fear of dogs. But when Penny shows up at Portia's house, she isn't so sure. After all, Penny is a pit bull―the scariest dogs of all, right? Good thing Penny has a few tricks of her own to win Portia's trust.
All eight Helper Hounds books are now available wherever books are sold! Click here to find out more about Sparky, Penny, Spooky, Robot, Noodle, King Tut the Mutt, Louis, and Brisket. A great gift for your dog-loving young readers.